Last night I wore my new Monif C. coral ruched dress to dinner with my fiance.
I have never received so much attention or so many compliments as I did on this dress. So sexy. Definitely one of the sexiest dresses I've ever worn. Between all the ruching and this juicy color, I am in love. The pictures don't do it justice!
I wore it all night and it kept it's shape beautifully. The material is great and so comfortable. This is a convertible dress, which means you can wrap it in different styles. I was scared I might not be able to wrap it properly but it's pretty simple! There are also different styles/instructions via the Monif C website. I heard the dresses are selling quickly—something to consider if you are thinking about getting one!
I paired it with my pink studded heels, a snake print clutch, and gold necklace. My fiance surprised me with Tiffany diamond earrings, which I also wore. I forgot to photograph them but they are beautiful. You know I love sparkle.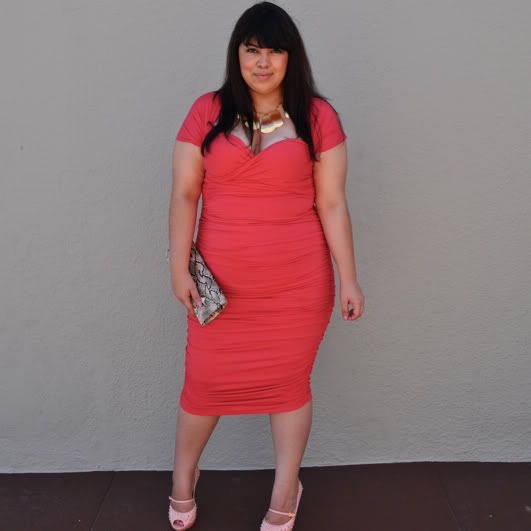 Monif dress, Pour La Victoire heels, Joanna Laura Constantine necklace, SimplyBe bag
P.S. This is my first Monif dress. For reference, I bought this in size 1 and felt the size chart was accurate. <3